TEACHERS OF FRENCH AS A FOREIGN LANGUAGE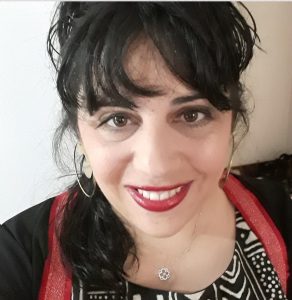 Samar has been living in Noumea with her family for about a year, having traveled much of the world, including Africa.
Passionate about the French language, literature, poetry, slam and writing, she is now a FLE teacher. She makes it a point of honor to raise her learner's skills, while keeping the pleasure of discovering and learning. According to her, transmitting is more than a profession, it is a vocation!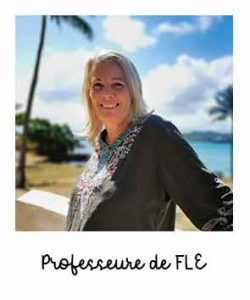 Isabelle worked in various metropolitan universities before performing her duties as library curator at the University of French Polynesia in Tahiti from 2010 to 2014. In particular, she posted courses online from an educational resource platform in order to to promote student success. Arrived in New Caledonia in 2014, Isabelle became a French as a Foreign Language (FLE) trainer for adolescents and adults and is also a French Language Integration (FLI) coordinator and trainer in a charity association in Nouméa. Isabelle is patient, attentive to the needs of learners and offers interactive lessons.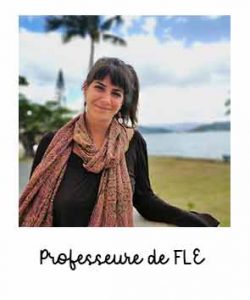 With her Bachelor of Arts degree in English in her pocket, since 2010 Nina has been teaching English and French to college and high school students in the context of private individual lessons or in small groups.
In early 2014, she decided to leave New Caledonia, her native island, for Paris where she resumed her studies and devoted herself more to music, her lifelong passion.
Two years later, she obtained a master's degree in Didactics of French as a Foreign Language and joined a private FLE school where she taught adults with varied profiles. This experience, which will last 4 years, develops a real enthusiasm for this new side of the teaching profession. She also gives support classes to French-speaking children and adolescents. During these Parisian years, Nina was also a singer in a group set up with her brother. It was in 2020 that she returned to Nouméa and quickly joined CREIPAC.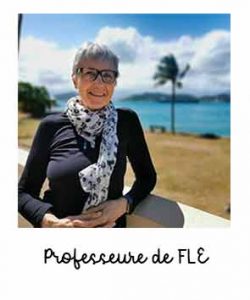 In the 80s, Brigitte left the metropole and her job as a photographer to come and discover New Caledonia with which she fell in love immediately. She was one of the pioneers of local green tourism before turning to Human Resources and then Communication. Today, holder of the DAEFLE, she works in several establishments while being a volunteer trainer at the Red Cross where she is also coordinator of the FLE sector.
For Brigitte, a FLE course goes beyond a simple transmission of knowledge and know-how, it is an enriching intercultural exchange, both for the learners and for the trainer, and for which she uses multiple tools.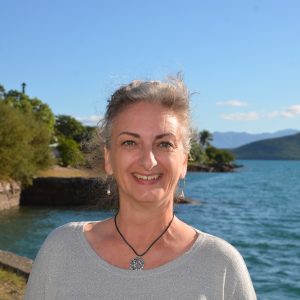 After 25 years of an administrative career in an international environment and many moves around the world, Marie-France, originally from Hossegor, plans to become an adult trainer. But it was while attending a French as a Foreign Language (FLE) class that she had a revelation. Holder of the DAEFLE, DELF examiner-corrector and enrolled in Master 2 of FLE/FLS/FOS for 2023-2024, Marie-France is committed to making learning French accessible to all by bringing her learners to overcome their fears (of speaking, of makeing mistakes, oof grammar…) and to gain self-confidence in order to progress. Relying on her interest in interculturality and her humor, she creates a friendly atmosphere conducive to learning.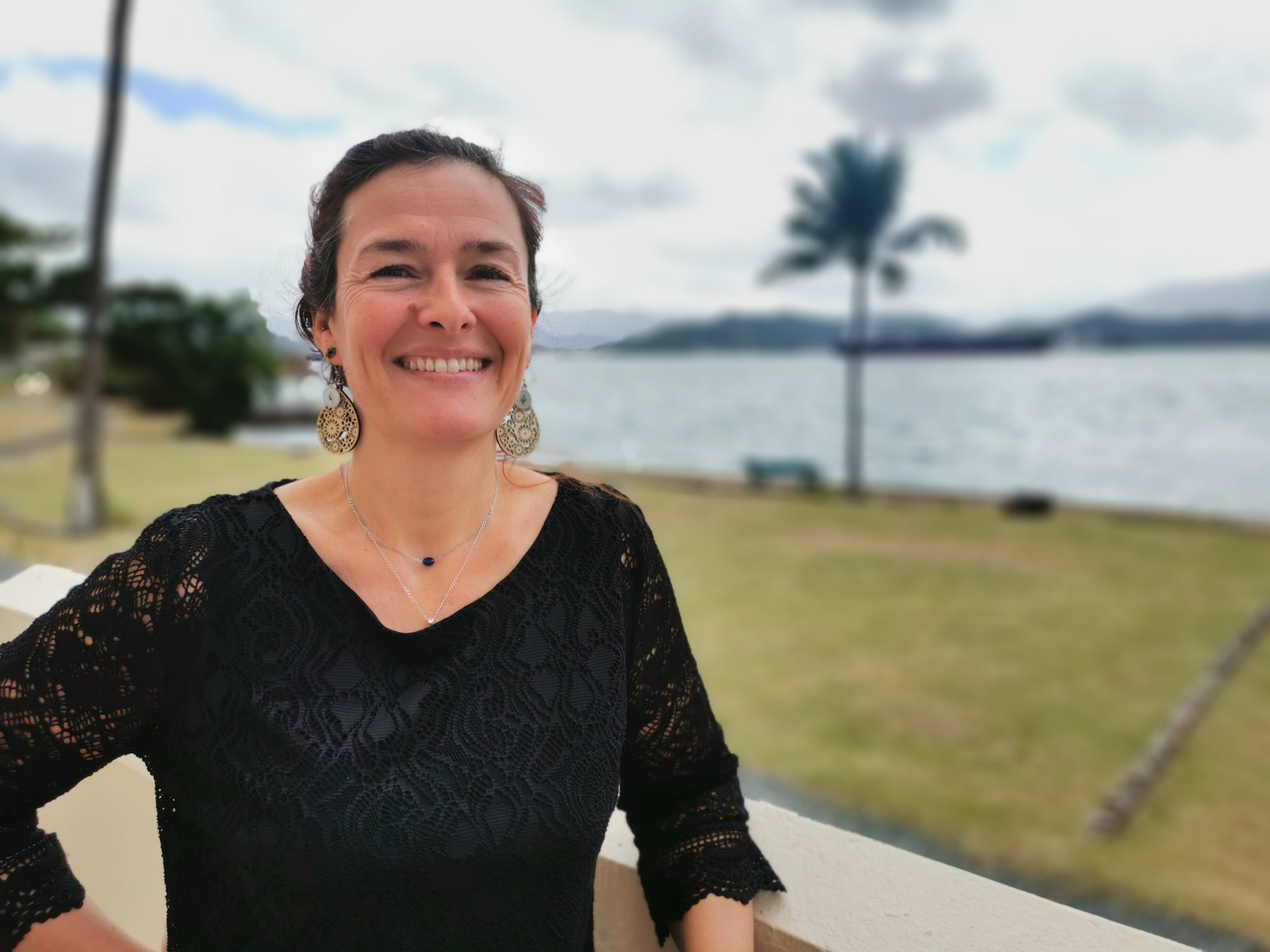 After obtaining her C.A.P.E.S in English in 2000, Claire quickly turned to F.L.E, and obtained a master's degree in 2001.
She will teach in England, then in France, before flying to New Caledonia.
It is authorized to pass exams such as the T.C.F, the D.E.L.F or the D.A.L.F.
She likes to establish a climate of trust in order to allow her learners to express themselves in complete safety. She uses the action-oriented approach, favors interactions and various media.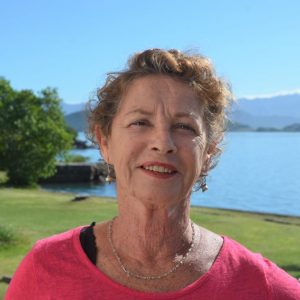 Claudie is from Pont-Aven in Brittany, she has three grown children and even grandchildren who live in Australia!
She loves the language and culture of her country of origin but being very curious, she has always liked to discover other cultures.
Teaching French is a real passion for her. His specialty: making people love French while playing! Yes, learning while having fun is possible! This does not prevent it from being rigorous in order to meet the more "academic" expectations of certain learners. Claudie is a concentrate of good humor. For her, laughter and humor are a necessity in her life balance.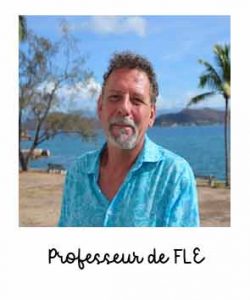 A regular as a FLE teacher at CREIPAC since 2006, Michel knows the New Zealand public perfectly. He is French but he also has New Zealand nationality. After a Certificate in Adult Language Teaching (CLTA) obtained at Auckland University of Technology in 1991, Michel taught French as a Foreign Language for years in various schools in New Zealand as well as at the Alliance French from Auckland. Also passionate about theatre, he regularly gives theater lessons to both adults and children.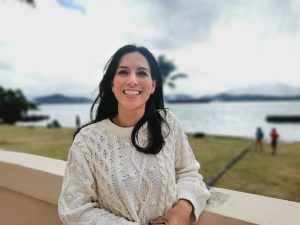 A dynamic and passionate teacher, Angelina seeks above all to allow her students to feel comfortable so that they can express themselves and speak English without fear of making mistakes.
Angelina was born and raised in the United States, specifically in Los Angeles. Holder of two master's degrees in the field of education, she has worked for more than 20 years with people of all ages.
She moved to Noumea with her family two years ago, for a new, more peaceful life J!
She enjoys doing yoga, walking in nature, interacting with others and discovering new cultures.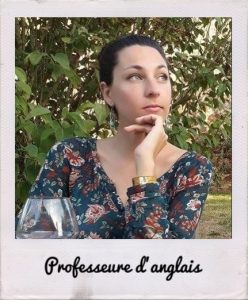 Mikele grew up in the Southwest of the United States, among mountains and desert cacti.
After obtaining diplomas in International Studies (Bac+5), French and TESOL (Teaching English to Speakers of Other Languages), she worked for five years as an English assistant and teacher in Martinique.
Wanting to discover the Pacific, she arrived in New Caledonia four years ago with the sense of sharing the American language and culture. A versatile teacher, she helps each of her students achieve their personal and professional goals.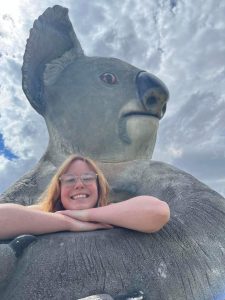 Eja is a 20-year-old Australian who graduated from the Australian National University with a double degree in law and arts.
Passionate about foreign languages, she now works as an English teaching assistant in a New Caledonian school but also at CREIPAC during our holiday internships.
Cléo is from Perth, located on the west coast of Australia. With her diploma in English and French literature in her pocket, she decided to come to New Caledonia where she worked as an English language assistant in a school and at CREIPAC.
Her hoal: to share his language and culture in the most playful way possible.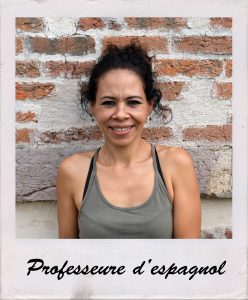 Claudia is Colombian but has been living in New Caledonia for just over 7 years. In Colombia, she was a Spanish teacher and when she arrived here, she wanted to continue her activity because she  love teaching Spanish.
"I am very serious, but kind and I like to make my students laugh. In my free time, I like to read, study, sometimes watch a series or a movie and, of course, spend time with my family. See you soon !"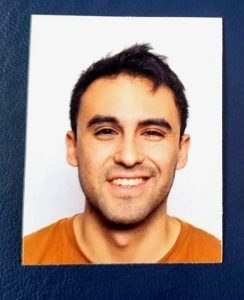 Fernando BECERRA OLIVARES
Fernando Becerra is from Chile. He grew up in La Concepción, a town located south of Santiago. He is a translator and interpreter in French and English. He currently works at Lycée Lapérouse as a Spanish language assistant and at CREIPAC. Fernando enjoys doing sports and listening to music.
PROFESSEUR.E.S DE JAPONAIS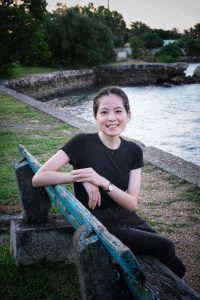 Miyu TABA (田場美祐) is from Okinawa, Japan.
She studied French at the University of Okinawa and is now a Japanese language assistant in New Caledonia.
She is very fond of watching Japanese anime and manga.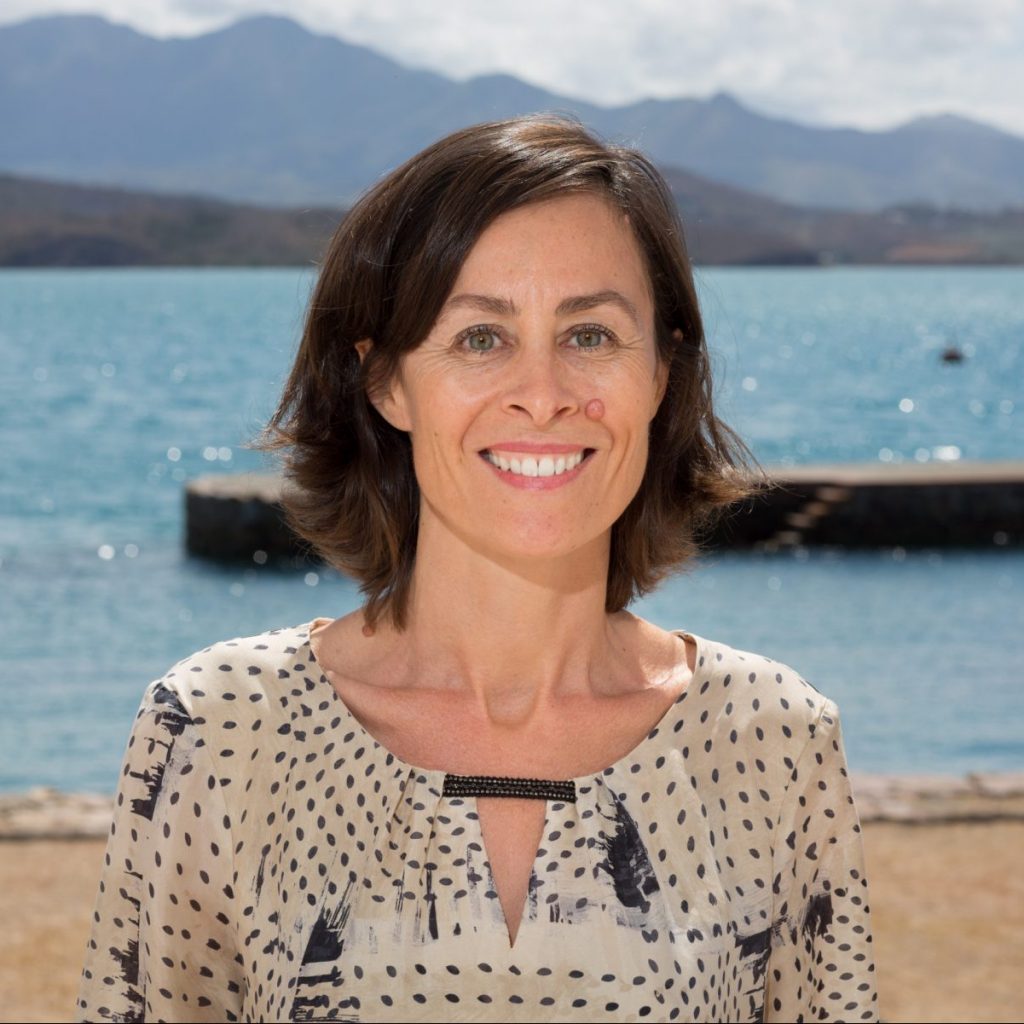 Valérie MEUNIER, DIRECTOR
Valérie is from Brittany and like many Bretons, she chose very early to discover other lands and other cultures. Her career led her to work in Cape Verde for the Ministry of Foreign Affairs, in Tahiti then in Reunion for National Education and finally in New Caledonia as Director of CREIPAC. Holder of a degree in international and strategic relations (IRIS Paris), she also has a Master's degree in French as a Foreign Language (FLE).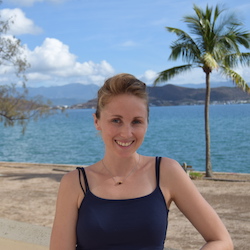 Laura DE LA VEGA, COURSE COORDINATOR
Laura has been working in education since 2010. Bilingual by birth and passionate about languages, she obtained her Master's degree in FLE at the University of Aix-en-Provence in 2010. After two years teaching English in schools from Noumea, she flew to Australia in 2012 where she teaches French and English as a foreign language. Back on the territory since September 2016, she puts her skills and experience at the service of CREIPAC. It organizes the courses offered year-round at CREIPAC and responds to any new request, whether in FLE or FOS.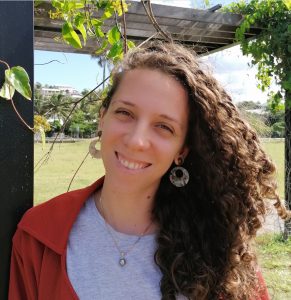 Coralie CHAUTARD, HEAD OF LANGUAGE STAYS
"Originally from New Caledonia, I left the territory after the baccalaureate, heading to New Zealand where I continued my university studies. This experience opens my eyes and mind to the world, languages and cultures around us. Learning the English language and the culture associated with it was such a rewarding experience for me that, when I returned to the pebble, I decided to resume studies in language teaching. License in hand, I left for Fiji where I taught French as a foreign language and ESL for 3 years. Back on my native island since 2020, I intend to continue to share my passion for learning languages and cultures."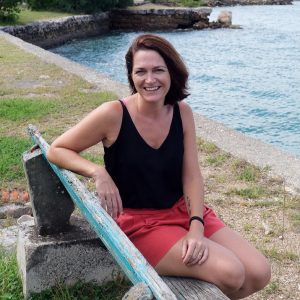 Amélie LE BRIGANT, ACCOUNTANT
After having worked for more than 10 years in the finance department in various metropolitan authorities, Amélie arrived on the Caillou in 2018. She joined a private company which mainly markets payroll and accounting software to public establishments.
With the skills acquired over the past 15 years, she is now taking on a new challenge by joining CREIPAC, having never worked in the education sector before.
A challenge for her career that motivates her even more!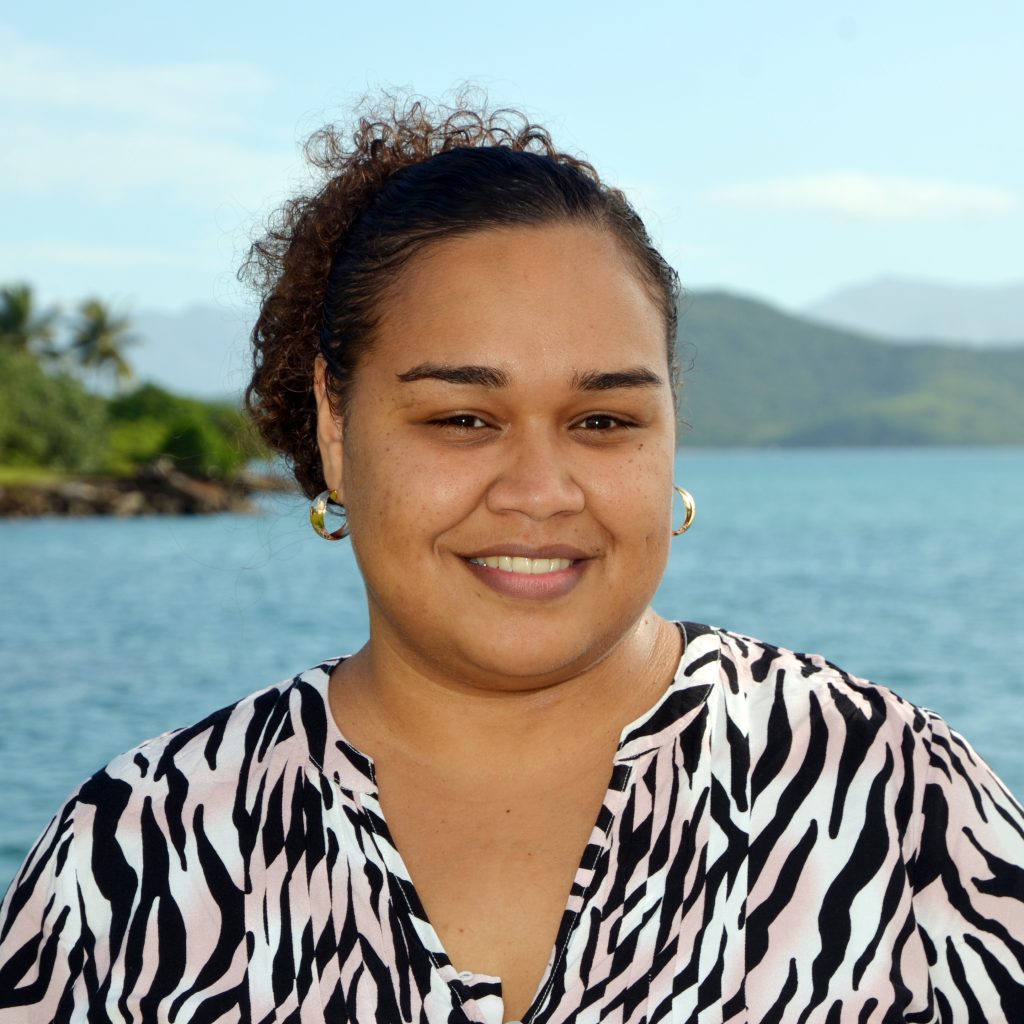 Amélia ROGOIVALU, FRONT DESK
Originally from New Caledonia, Amélia obtained a degree in Oceanian Languages and Cultures at UNC.
Eager to learn more about the cultures of the Pacific, she then taught French as a Foreign Language (FLE) at the Alliance Française de Suva for 3 years.
Returning to Nouméa in July 2022, she is now responsible for welcoming our visitors.
Clotilde RICHALET SZUCH, COM OFFICER
Trained as a photographer, Clotilde is a jack of all trades, passionate about images. The sharing and transmission of information conveyed by photography and video led her logically towards communication.
In charge of COM at CREIPAC, she works on the promotion of the linguistic offers offered by the establishment as well as on broader missions of promotion of the Francophonie in the region.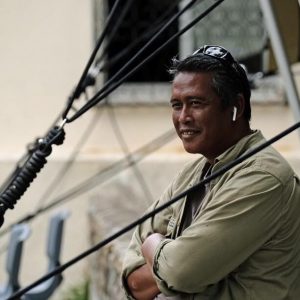 Olivier SOERIP, GENERAL INTENDANT
Olivier has been managing the maintenance of the buildings and the huge CREIPAC garden since 2007. His work does not prevent him from offering you a tasting of coconuts. A cook on his own time, on request, with the team, he also organizes bougnas, one of the traditional dishes of Kanak culture.